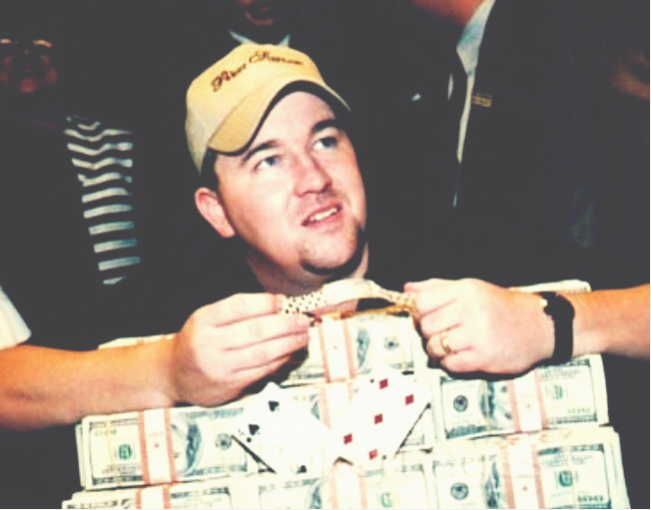 Most poker players know about satellite tournaments but most don't know all of the potential benefits of playing them frequently. Even top pros with large bankrolls frequently play satellites as a way to limit their downside and get into larger buy-in events.
Let's explore the many benefits of playing satellites!
Lower Buy-ins 
Satellite tournaments allow players to compete for a seat in a higher-stakes event at a fraction of the cost. Instead of paying the full buy-in amount for a major tournament, satellites typically have lower entry fees. 
This reduced financial commitment makes satellites more accessible to a wider range of players, including those with smaller bankrolls or those who want to manage their expenses more efficiently. In a single table satellite, you can win a seat into a larger tournament for around 8 times the buy-in of the satellite and potentially much higher if in a large field. 
Chris Moneymaker famously turned his $59 dollar satellite seat into $2.5 million dollars when he won the WSOP main event in 2003. 
Higher Value for Money 
By participating in a satellite, you have the opportunity to gain access to a tournament with a much larger prize pool than what you would typically find at lower-stakes events. This means that even if you invest a smaller amount in a satellite, the potential return on investment (ROI) can be significantly higher if you win a seat in the target tournament. Satellite winners to large buy-in tournaments often enjoy the advantage of competing for life-changing sums of money for a fraction of the cost.
Reduced Risk and Limiting Variance
High-stakes tournaments come with a higher level of risk due to the substantial buy-ins. Playing satellites allows you to spread your risk across multiple tournaments and increase your chances of winning a seat at a lower cost. 
By participating in satellites, you diversify your poker portfolio and minimize the impact of variance, which is inherent in the game. This risk reduction can be especially beneficial for players who prefer a more conservative approach to bankroll management. Many pros will play satellites to get into high-roller events.
Bankroll Flexibility 
Satellites provide players with more flexibility in managing their bankrolls. Rather than committing a significant portion of your bankroll to a single high-stakes tournament, satellites allow you to allocate smaller portions to multiple satellite events. 
With tournaments having such a high degree of variance, this approach ensures that you have a more sustainable bankroll management strategy, with the potential for a higher return on investment.
Learning Opportunities at a Discount VS Softer Competition
Playing satellites can be viewed as an investment in your poker education. The experience gained from competing in satellite tournaments especially those leading to major events, is invaluable. 
In High Roller satellites, you have the chance to learn from playing against stronger competition, adapt to different strategies employed by different players, and improve your game in a high-pressure environment. For single-table satellites, you can simulate a final table experience with ICM pressure and playing with less than a full table.
For low and mid-stakes satellites, there is the benefit of going against softer competition as most of these players are looking to get into the tournament without having the entry fee or the confidence to pay the full entry fee.
Wrapping it Up
Playing satellite tournaments has many advantages. Lower buy-ins, higher value for money, reduced risk, bankroll flexibility, learning opportunities at a discount, and access to exclusive events make satellites an appealing option for players of all levels. By participating in satellites, you can maximize your poker experience, stretch your bankroll, and compete for significant rewards without breaking the bank.