How Chip Leader Coaching Helped Mark Davis to a WPT Title and a $1M Score
Getting to a $3,500 buy in WPT final table is an accomplishment in its own right, but Mark Davis can attest that reaching that finish line and winning the tournament is next level. He recently won the WPT Seminole Hard Rock Poker Showdown this past April, for $1,000,300 at the HyperX Esports Arena at the Luxor in Las Vegas.
Davis isn't new to the poker world, in fact, his all time earnings are over $1.5 million (HendonMob.com). But when it came to the final table in May, he knew he needed to turn to the best for advice on how to have the mindset of a closer and take on a final table with seasoned pros such as Darren Elias.
When he made the final six of the Seminole Hard Rock Poker Showdown, Davis enlisted none other than Chance Kornuth and Chip Leader Coaching.
The hired coaching paid off and Davis took home the million-dollar prize and found another ally in the poker community. (pokernews.com)
Chance and Davis developed a friendship, but ultimately they both have fostered the skills that poker players need in order to win at that level of game play.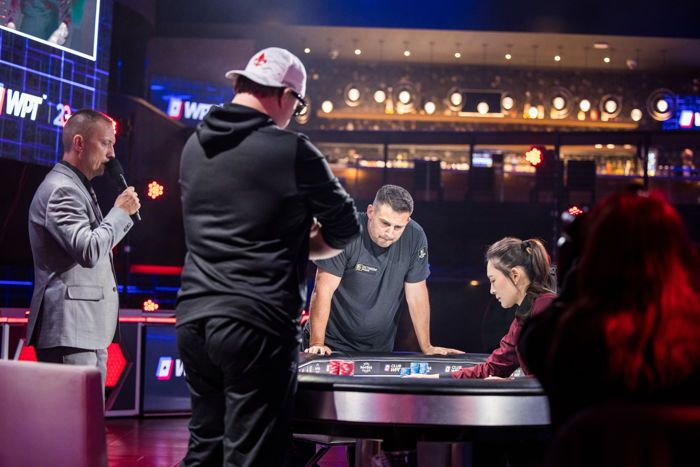 We recently sat down with Mark Davis to discuss what made Chance's coaching so unique, and how other players can utilize his training through Chip Leader Coaching to level up their own gameplay.
Question: What's your name & what stakes / format do you play?
Hey, my name is Mark Davis. I play the 1,000 to $10,000 range, no-limit hold 'em tournaments.
Question: What were your biggest challenges before working with Chip Leader Coaching & how did you try to fix them?
Before CLC and working with Chance, I'd say my biggest challenges in tournaments were failure to let go of a pot if it didn't look like I was going to get a fold. I was always gas, gas, gas, very aggressive. And he helped me kind of learn the times to reign it in, the times to push it even more. I would say that the biggest difficulty I had would be knowing when to reign it in and when to just wave a white flag. But then also using my natural aggression and keeping that up at times, especially money bubbles, price increases, pay jumps, that sort of thing; he really solidified that for me.
Question: Can you walk us through your thought process before you started working with Chip Leader Coaching?
So I was about to enter the biggest spot of my life playing for a million dollars up top, only six people left. And obviously, the results that Chance and Alex have as players are second to none and speak for themself. But when I started working with Chance, the more I got to know him as a person, it made me want to talk to him every single day, and made me want to do the work that he put in front of me. And yeah, the players they are, are second to none, but the people they are, are better than even the players they are. So, it made it fun to get to work every day.
But also having the same kind of mindset as a person, and a player, really makes it easier to execute the necessary steps. But that was what I did before I said yes. I was contemplating how I would approach the final table, what kind of spots to take against a formidable champion like Darren Elias. And when I got to the final day, Chance made sure I was fully prepared for everything that came my way.
Question: What results have you experienced in your game since working with Chip Leader Coaching?
Well, since working with Chance and Chip Leader Coaching, obviously I won the Seminole Hard Rock WPT event for $1 million. Then I went to the world series. I think I played 12 events and cashed in eight, was chip leader in a 5k after day one and had some run bad in day two, still finished 19th out of 800 and something for 23k. So that was not a terrible outcome, but yeah, I've had great success since, and don't see anything but great success in the near future as well.
Question: Are there any final thoughts you'd like to share regarding your experience with us?
So basically, if you're looking as we all do in tournaments, where you're kind of reaching a plateau or fizzling out at certain points, I'd say the biggest difference for me since I've started working with Chip Leader Coaching is how to finish tournaments. It's how to see that finish line and not stop until you get there. Because sixth place money in a lot of tournaments is phenomenal. Fifth, fourth, third, second. But nobody remembers sixth, fifth, fourth, third, and second. They all remember first. The money's obviously much greater up top, and when you win a title, there's nothing like it. Chip Leader Coaching, to me, they're second to none, and you can't go wrong getting with them. You're going to see results immediately like I did, and the sky's the limit with Chance, with Alex, and with all Chip Leader Coaching.